Riders performance:
Real performance is letting go of fears and limitations and being present instead of chasing goals. That's how you shine the most and give your best performance as an individual. To want something in life is okay, but it's important to be in the process of learning before achieving.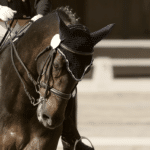 It's all about developing as a person so you can be the best version of yourself. Then everything you set your mind into will become a success. So in order to make a great performance with your horse, you first of all have to put in the effort by working with yourself.
The personal learning process is in fact the greatest gift in life if you pay attention to it. In order to learn, you have to reflect and change pattern. It's about having the courage to go your own way and make new decisions that affects your life the way you want them to. It's not about achieving your goals quickly and losing touch of what it's all about. It's about being grounded so you can enjoy the process of creating positive and lasting results.
Individual performance coaching:
Performance coaching is individual coaching for you without your horse. I will show you the way to individual success by giving you the right tools at the right time. It's all about timing. The sessions takes root in your current situation and uncover issues, that block further personal progress. Personal development is about how you se yourself and others and how you approach life. It's about being present, and when you are mentally present you are more likely to pick up signals from your horse.
My Individual Coaching Program is dynamic and the sessions are designed for each person. We are all born to create positive results in life, but how we achieve them is different for each one of us.
Personal development is the way to success